Welcome to Solana Beach Art & Frame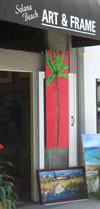 You'll find us on the north end of the exciting and eclectic Cedros Design District, where we've been since 1992.
We have a fantastic selection of fine art and prints and a vast array of beautiful frames to suit every style of artwork. With our on-site frame shop we strive to make our clients happy and help them enjoy their newly framed artwork.
We are conveniently located near the corner of Cedros Ave and Lomas Santa Fe, with parking behind the gallery.
Our Services:
Courteous, professional, knowledgeable custom framing and design assistance
Unusual and large selection of frames: edgy, contemporary, traditional, beachy, rustic and one-of-a-kind specialty
Art catalogue library
On-site framing
Installation service - art restoration
Visit us today!
Print our coupon for a discount on your framing order.

Emmy welcomes all pet pals!
111 S Cedros Ave #300 • Solana Beach, CA 92075
(858) 793 1343 • ct-sbaf@sbcglobal.net
Hours: 10 - 5 Mon - Sat (EXCEPTION WED 1-6) • Sundays by appointment
© Copyright 2014 Solana Beach Art & Frame. All Rights Reserved.