Featured Artist—Anita Lewis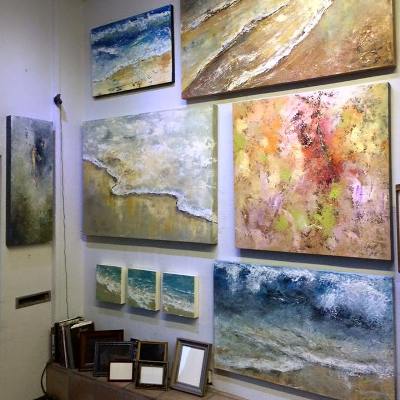 A California native, Anita Lewis's stunning works are owned by collectors throughout the world. Our gallery is now pleased to offer you a curated selection of her original oil paintings.
Influenced by modern art and architecture, Anita's incorporation of classical mediums (oil) as well as modern materials (metal leaf), results in abstract works that are emotive, earthy, and textural.
Her work has been widely published in art and design magazines (Art Business News, Fine, and LUXE) and she has appeared on San Diego's Channel 7 NBC and Fox 5.
Other featured artists: Russell Coletti, Douglas Steakley, and John Moseley.
111 S Cedros Ave #300 • Solana Beach, CA 92075
(858) 793 1343 • ct-sbaf@sbcglobal.net
Hours: 10 - 5 Mon - Sat (EXCEPTION WED 1-6) • Sundays by appointment
© Copyright 2014 Solana Beach Art & Frame. All Rights Reserved.