Featured Artist—Douglas Steakley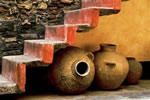 Douglas Steakley is a widely recognized photographer from Carmel Valley, California. His images range from photos of the Northwest, where he lives, to colorful photos of scenes from his travels around the world. His photos often have the look of fine oil paintings.
In addition to his work as an artist, Steakley supports and works with several conservation groups, including The Big Sur Land Trust, The Nature Conservancy, The Land Trust Alliance, The Trust For Public Land, The Wilderness Coalition, The Tuolumne River Trust and the Monterey Peninsula Regional Regional Parks District.
In 2003, he received the Ansel Adams Award from The Sierra Club for his conservation photography.
Other featured artists: Russell Coletti, Anita Lewis, and John Moseley.
111 S Cedros Ave #300 • Solana Beach, CA 92075
(858) 793 1343 • ct-sbaf@sbcglobal.net
Hours: 10 - 5 Mon - Sat (EXCEPTION WED 1-6) • Sundays by appointment
© Copyright 2014 Solana Beach Art & Frame. All Rights Reserved.