Featured Artist—Russell Coletti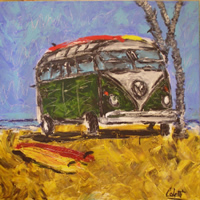 Russell Coletti's colorful, eclectic art is always popular in the gallery. He often paints fun beach scenes in vivid colors using various media.
Mr. Coletti is a local artist and his work reflects the fun, funky style of living we enjoy here in Solana Beach and other coastal California towns.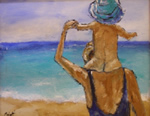 These paintings are examples of Russell Coletti's work. Come into the gallery or call to see which works we currently have available.
Other featured artists: Anita Lewis, Douglas Steakley, John Moseley
111 S Cedros Ave #300 • Solana Beach, CA 92075
(858) 793 1343 • ct-sbaf@sbcglobal.net
Hours: 10 - 5 Mon - Sat (EXCEPTION WED 1-6) • Sundays by appointment
© Copyright 2014 Solana Beach Art & Frame. All Rights Reserved.